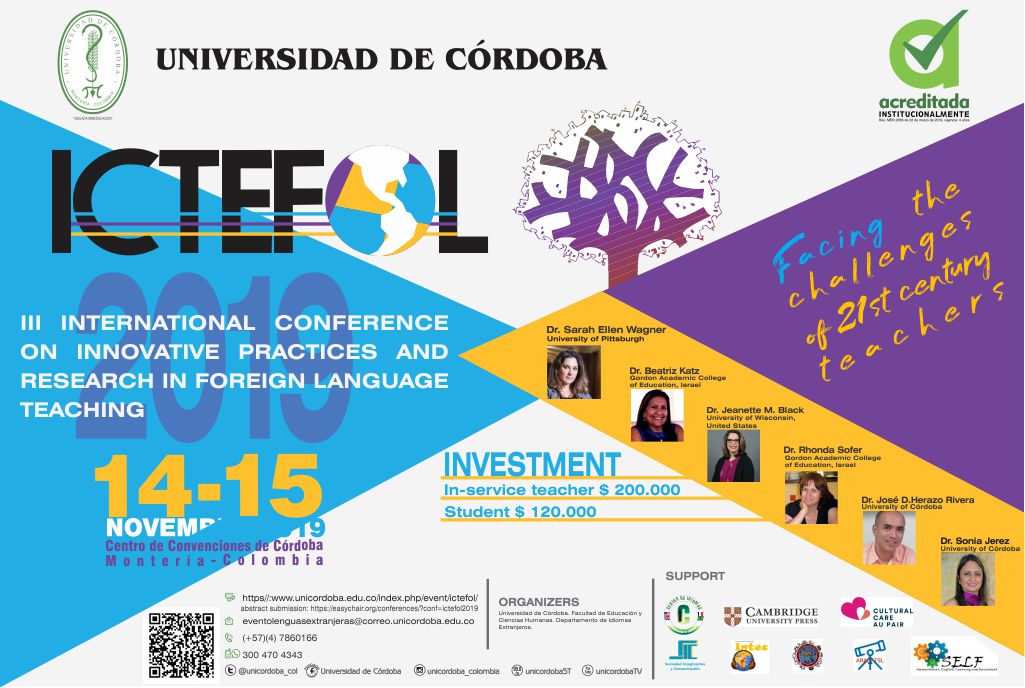 III INTERNATIONAL CONFERENCE ON INNOVATIVE PRACTICES AND RESEARCH IN FOREIGN LANGUAGE TEACHING
noviembre 14, 2019 @ 8:00 am

-

noviembre 15, 2019 @ 5:00 pm

BMT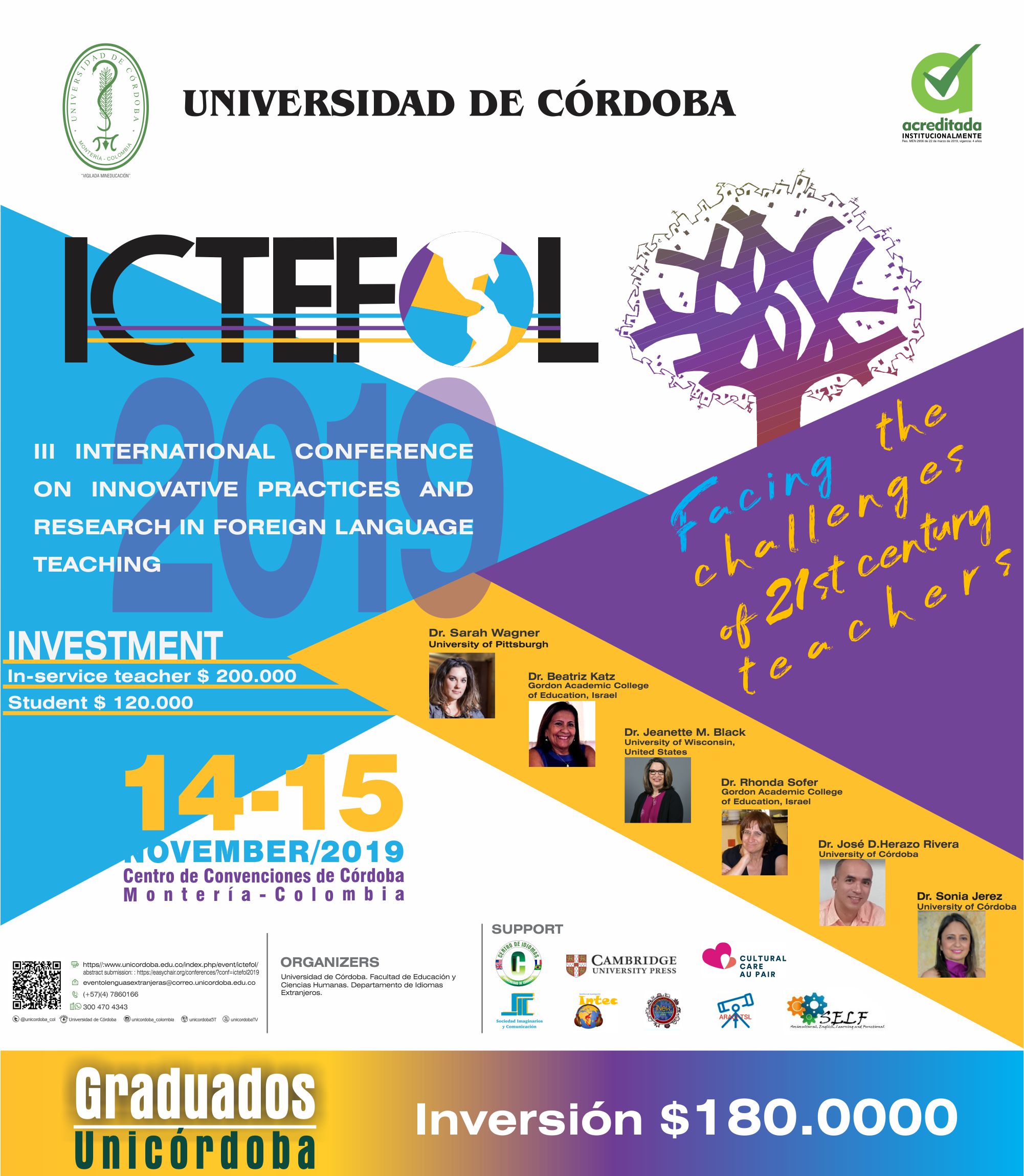 III INTERNATIONAL CONFERENCE ON INNOVATIVE PRACTICES AND RESEARCH IN FOREIGN LANGUAGE TEACHING: FACING THE CHALLENGES OF 21st– CENTURY TEACHERS
November 14th and 15th – 2019.  Montería. Colombia
The 2019 International Conference is space for academic dialogue among teachers, researchers, pre-service teachers and students of foreign languages in local, national and international contexts. This year's conference aims at recognizing the innovative practices and research on the teaching of English or any other foreign language and at the same time expects to be an opportunity to:
Foster advanced research on the teaching and learning of foreign languages
Promote the creation and development of academic communities and networks that respond to the demands of 21st century foreign language teaching and learning.
CALL FOR PROPOSALS
Proposals are invited for individual papers, particularly those dealing with the practical uses of language teaching and pedagogy.  Every presentation will be included in the conference proceedings, and presenters can also submit a full paper to be evaluated and later published in our online journal Avances en Educación y Humanidades. Proposals will cover but will not be limited to the following areas:
Second/foreign language research methods
Second/foreign language research and applied linguistics
Research in second language processes and development
Methods and instruction in second language teaching
Second/foreign language assessment
Language Teaching and Learning from an Intercultural Perspective
Dual Language Education
Educational leadership, and
Phenomenology as a research approach/strategy.
The deadline for proposals submission is August 30th 2019. Proposals can be submitted in any of the following two options:
Papers:
These are formal presentations on a contribution of original knowledge by one or three authors maximum within a 20-minute period, including time for discussion (ideally 5 to 10 minutes for discussion). Only presentations of completed or ongoing research will be accepted.
Posters:
Posters are for face-to-face discussions of research presented by one or three authors. Posters are especially effective for information that can be presented visually (e.g., charts, graphs, tables, diagrams). A specific time will be designated during the conference for poster presenters to discuss their research. Posters can address completed research, ongoing research, or research proposals. However, if you have already submitted your research we advise you to submit it as a paper.
| | |
| --- | --- |
| June 18th, 2019 | Start of registration |
| September  25th 2019 | Deadline for abstract submission |
| October 10th , 2019 | Submission of feedback from the Academic committee |
| October 11th , 2019 | Start of registration for presenters |
| November 13th , 2019 | Registration deadline |
EVALUATION OF PROPOSALS AND POLICIES
Proposals for papers and posters will follow a double blind review methodology. Criteria for evaluation include:
Clear presentation of research problem and purpose, data sources, questions, data collection, data analysis procedures, and results/expected results
Relevance of results or proposed study for current foreign language practice
Relevance of results or proposed study for advancing the understanding of our field
Appropriateness and significance of the topic/issue/problem
Individuals may submit a maximum of one abstract as the first author, whether a paper or a poster. First authors are expected to present the research bearing their name, but all authors are encouraged to share in the presentation of co-authored research. A maximum of three authors is accepted per presentation. An individual may appear as a first author only once on the program, in addition to a possible role as co-author/co-presenter of another paper.
The author's confirmation of attendance and presentation signifies that the author will present the paper on the day and time assigned by the conference program committee. Our conference will not respond to or consider requests for a specific time slot.
PAPERS TO BE PUBLISHED IN OUR JOURNAL "ADVANCES EN EDUCACION" SHOULD TAKE INTO ACCOUNT THE FOLLOWING RECOMMENDATIONS:
Avances en Educación y Humanidades online journal will publish papers which are peer-reviewed and accepted. These should not exceed more than 10 pages
Papers should be submitted in word format and in Times New Roman or Arial 12, with 1.5 space and 3 cm margin on each side.
All pages have to be properly numbered
Citations must follow the latest APA format
A list of references used in the paper must be included
REGISTRATION
Please follow this link  CLICK HERE to register for our conference. The deadline for registration of posters and papers is September 25th 2019 in the following link CLICK HERE. However, please be advised that our 2019 conference will accommodate only 400 attendees, so registration as a participant will close once this amount is reached.  Please register early!!
CONFERENCE FEES AND PAYMENT
Payment should be made to the following bank account:  Cuenta de ahorro 438696130  Banco de Bogotá.  Once you pay, please attach your bank deposit slip on the registration and send it to eventolenguasextranjeras@correo.unicordoba.edu.co REGISTRATION WILL NOT BE COMPLETE UNTIL YOU ATTACH THE PROOF OF YOUR PAYMENT.
| | |
| --- | --- |
| In-service teachers | $200.000 |
| Students | $120.000 |
| Presenters | Fees are waived for first presenter |